File:Ep3 ia 48625.jpg
Kit Fisto
Biographical information
Homeworld
Died
Physical description
Species
Gender
Height

1.96 meters

Hair color

None

Eye color

Black

Chronological and political information
Era(s)
Affiliation
Apprentices
Kit Fisto was a renowned male Nautolan Jedi Master in the waning years of the Galactic Republic. During the Clone Wars, he served as a High Jedi General in the Grand Army of the Republic, as well as a member of the Jedi High Council.
Biography
Fisto was born on the planet Glee Anselm, in the Sabilon region. He was known for his trademark smile and his unusually close relationship with fellow Jedi Aayla Secura, an attachment that occasionally pushed the limits of the Jedi Code.
His distinctive head tentacles contained highly sensitive olfactory receptors that allowed him to detect pheromonal expressions of emotion and other changes in body chemistry. This was indeed a unique attribute not afforded to any other Jedi, either naturally or through the Force. As such, he had hoped to be assigned to the Council of Reconciliation, but was instead elected to the Jedi High Council.
Fisto was a master of Shii-Cho, the first form of lightsaber combat, which he mastered to a degree that made him one of the finest swordsmen in the Order. He was also an extremely skilled swimmer and honed his Jedi abilities to take advantage of his amphibious origins, making him a deadly foe underwater as well as on land. For instance, he was capable of creating and manipulating water currents through use of the Force for both offensive and defensive purposes. Fisto devised his own Force technique from this ability, aptly named the Force water orb.
His lightsaber contained two crystals employing a bifurcating cyclical-ignition pulse that allowed the blade to operate underwater.
In 41 BBY, Fisto took Bant Eerin as his Padawan when her original master, Tahl, was killed.
Clone Wars
"Here we go again."
―Kit Fisto
Soon after dispatching the Pirates of Iridium in early 22 BBY, Fisto was chosen as one of the two hundred Jedi that accompanied Mace Windu to rescue Obi-Wan Kenobi, Anakin Skywalker, and Senator Padmé Amidala from the Separatist leaders at the Geonosian execution arena. Amidst hundreds of droids, he came across one with the head of C-3PO; he pinned him underneath a B2 super battle droid before giving his signature grin.
Fisto survived the arena, escaping in the same gunship as Jedi Masters Yoda, Mace Windu, and Ki-Adi-Mundi. Then, along with the other survivors, he led the new Grand Army of the Republic in the Battle of Geonosis at the start of the Clone Wars.
In one of his first Clone Wars campaigns, Fisto led a team of clone SCUBA troopers in Battle of Mon Calamari against the Separatist-allied Quarren Isolation League, destroying a Quarren crab cannon in the process. Kit later forged a new accord on the world that led to joint Quarren-Mon Calamari representation in the Galactic Senate.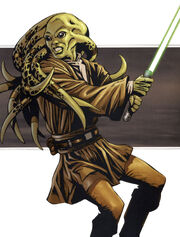 Fisto later journeyed back to Mon Calamari upon discovering that the Isolation League had come back into being, under the leadership of strange jellyfish-like creatures known as Moappa. These beings grouped together to become one great beast, possessing superlative intelligence and the power of telepathy. Fisto defeated this being by scattering the individual creatures throughout the waters.
Some months later, he would travel to Devaron with fellow Jedi Tholme, Aayla Secura, Tr'a Saa, and An'ya Kuro. Their mission was to locate and decimate a Separatist foundry launching raids on Republic supply convoys. While Tholme and Kuro lie injured and Secura was holding off Aurra Sing, Fisto and Saa assaulted and captured the base.
During the height of the Clone Wars, Fisto became the first to fight and defeat a new type of droid that was given the name "Jedi Killer". Theses droids were known for their unmatched combat abilities after demonstrating their power on an unfortunate ARC trooper. Accompanying Fisto was Obi-Wan Kenobi, an ARC trooper, four clone troopers, and Barrister Doolb Snoil, a representative of the Galactic Senate. They traveled to Ord Cestus in order to negotiate an agreement that would sell the "bio-droids" to the Republic. During this mission, Fisto went by the false name of Nemonus, a Dark Jedi, to trick the Five Families. Near the end of the operation, he dueled with Asajj Ventress. While he lost to her, he was saved from death by Obi-Wan, who arrived seconds before Ventress finished him. Obi-Wan, however, would have been beheaded if the near-unconscious Fisto had not quickly returned the favor.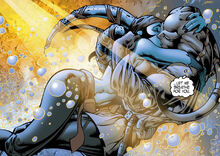 Eventually, the Jedi learned of a bounty that had been placed on all Jedi. To end this threat, Fisto traveled with fellow Jedi Masters Mace Windu, Agen Kolar, and Saesee Tiin to the Rig—the base of operations for the Crimson Nova chapter of the Bounty Hunters' Guild. The four made quick work of the bounty hunters, forcing them to drop the price on Jedi.
For years, Fisto's name had been suggested as a candidate for the Jedi High Council. Humble, and feeling that he had not the skills for such an appointment, he would repeatedly decline such offers. Eventually, however, Fisto's exploits in the Clone Wars answered any lingering doubts about his suitability, and he ascended to a seat on the august body.
At some point during the war, Fisto traveled with Jedi Master Plo Koon to quell an uprising of the inmates of an underwater prison. Here they encountered the infamous Gen'Dai bounty hunter Durge, whom they trapped in the catacombs beneath the prison.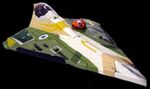 During the Second Battle of Coruscant, Fisto, along with Mace Windu, initially provided protection of Supreme Chancellor Palpatine thwarting the multiple attempts made by General Greneral Grevievous to capture the chancallor. The two valiantly fought against General Grievous's attempts to capture the Chancellor. However, their efforts proved to be in vain. After Palpatine was kidnapped, they pursued Grievous's shuttle in one final attempt, but were unsuccessful.
Death
Soon after Palpatine revealed himself to be the Dark Lord of the Sith that the Jedi had been seeking for some time, Kit Fisto once again accompanied Mace Windu, Agen Kolar, and Saesee Tiin to confront him. Fisto briefly chatted with Kolar and Tiin before their gunship departed to the Chancellor's office. He said he would have been much calmer if Yoda or Obi-Wan Kenobi had been with them. Master Tiin scolded him at this; he maintained that they were capable of defeating the Sith Lord without the aid the of other Jedi.
Despite his prowess, Fisto's Shii-Cho fighting style could not match Sidious's superior skill. Mere seconds after he had crossed sabers with the Sith Lord, he met his end when Sidious, the very man he had "protected" a few days before, cleaved into his waist, although he was able to survive longer than his companions Agen Kolar and Saesee Tiin. Fisto met an ignominious end with a smile on his face, much to the surprise of Anakin Skywalker when he arrived.
Behind the scenes
Kit Fisto first appeared in Attack of the Clones. Originally, his character was designed as a Sith, but since the movie did not call for a Sith of a species other than Human, this was changed.
Zac Jensen played Fisto in Attack of the Clones, but did not replay Fisto in Revenge of the Sith. The role went to stuntman Ben Cooke.
Like Boba Fett, Kit is disproportionately popular among Star Wars fans as a minor character, mainly because of his distinct smile.
In the novelization of Revenge of the Sith, Kit was beheaded by Palpatine, not cleaved into the waist. His death was not described firsthand—instead, Anakin found Fisto's head on the Chancellor's table with the Nautolan's typical smile on it.
Appearances
Sources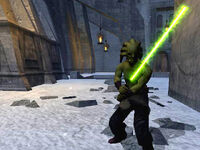 External links