Winter, the only child of Sheltay Retrac, was raised as a sister and companion to Princess Leia Organa during the dark years of the Galactic Empire. Like her adopted sister, Winter became a pivotal player in the Galactic Civil War, serving in various roles but most notably as a spy. As an operative of Alliance Intelligence, she served the Rebel Alliance and later the New Republic admirably. Her photographic memory gave her a special advantage in piecing together confusing situations or even simply computing data. She was often attached to Rogue Squadron as an intelligence officer, though sometimes under false identities.
Winter also served a vital role as Leia Organa's best friend, aide and confidante. She had special relationships with Leia's children Jaina, Jacen, and Anakin Solo, who she raised during their first years of life. She had a long romance with Tycho Celchu, from whom she was often separated by war, but the couple would eventually marry. She was also known to be a close personal friend of Admiral Ackbar.
Biography
Early life
Winter was the only child of Sheltay Retrac, a senator at the time of the Clone Wars, and an unknown Alderaanian artist (possibly Ob Khaddar). Her parents both died when Winter was still young.
She was adopted by Bail and Breha Organa, and was Princess Leia's best friend and companion. The two grew up together on the peaceful planet of Alderaan and attended the best schools, learning about art and history. Possessed of a natural grace and poise, she was often mistaken for Princess Leia by visitors to Alderaan's court. Though the resemblance was tempered by Winter's stunning white hair, the two friends would later employ their similar looks for tactical advantage. Winter and Leia were both schooled in Alderaanian ideals of freedom and liberty, and were early members of the Alliance to Restore the Republic.
Rebellion spy
When the Rebellion began, Winter was heavily involved with many of the operations, partly because she was unassuming and non-threatening but mainly because of her photographic memory. She participated in several Rebel undercover missions with various code names such as Targeter and Windmere Wellen. In 3 BBY Winter participated in a Rebel alliance meeting on Cloud City organized by Bria Tharen. Winter represented Alderaan alongside Hric Dalhney and a Caamasi named Ylenic It'kla.
In the early period after the Battle of Endor, Winter continued to serve as a rebel agent under the name "Targeter" and several times co-operated with Rogue Squadron. She participated in missions including the Tatooine affair and the squadron's rescue of Imperial defector Sate Pestage. It was on these missions that sparks first flew between Winter and Rogue Squadron pilot Tycho Celchu.
Later, after Rogue Squadron re-formed, she was instrumental in the New Republic capture of Coruscant; she and Iella Wessiri initially infiltrated the planet and set the stage for the Rogue Squadron commando team to arrive. During this period Winter used the pseudonym "Rima Borealis" as well as her standard "Targeter." She served as a contact Corran Horn and Erisi Dlarit, while Iella worked with Wedge Antilles and Pash Cracken. While leading Corran and Erisi on reconnaissance missions (disguised as tourists), Winter inquired about Tycho. Corran Horn, unsure if Tycho might be an agent of Ysanne Isard, picked a fight with Winter about Tycho's tragedy. Winter, however, won the argument when she fully revealed Tycho's personal history, leaving Corran chagrined. Corran and Winter soon reconciled, however.
While working on Coruscant, Winter's slicing skills came in handy when breaking into the planet's Imperial computers to deactivate the planetary shields. Working with Wedge Antilles, her quick-thinking and speed on a datapad helped to coordinate the Rogue Squadron pilots in their fight to take the planet.
During this period, Winter piloted a freighter that was perfectly designed for her profession as a spy. Though it had no consistent name, it possessed such technological innovations as a surveillance equipment, slicer droids, powerful deflector shields, and Aurum thrusters for speed.
Protector of the Solo children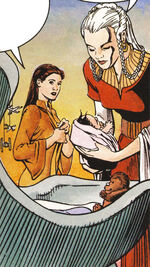 Eventually, Winter became the caretaker of Leia Organa Solo's three children, the twins Jacen and Jaina, and their younger brother Anakin. For the first two or three years of their lives, all three children were kept safe on the secret planetoid of Anoth to protect them from enemies such as the Empire. Winter was one of the few people who knew Anoth's actual location, and she served as the primary caregiver of the children until they returned to live on Coruscant.
In 11 ABY, once Jacen and Jaina had left to live with Leia and Han, Winter and baby Anakin came under attack on the secret planet of Anoth. Anoth's location had been betrayed by the brainwashed Terpfen to the Imperial Ambassador Furgan. After deploying her station's FIDO against an attack by Furgan's fearsome MT-ATs, Winter fought bravely, hoping to lead the stormtroopers away from Anakin. Through her ruse, she was able to draw some troops into a trap, leaving them vulnerable to assassin droids. Then, in the nick of time, Leia and Ackbar arrived on-planet to provide assistance and rescue Anakin. However, in years to come, Winter's role in the Battle of Anoth would be remembered as decisive.
Following these events, all the Solo children returned to Coruscant to live with their parents, since Anoth was no longer safely hidden. The children found it difficult at first to adjust being raised by someone other than Winter.
Later life
Throughout the years and the missions, Winter became involved in a relationship with fellow Alderaanian, Tycho Celchu of Rogue Squadron, whom she eventually married.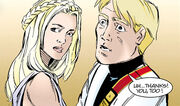 In her later years, Winter had taken to aiding former New Republic Admiral Ackbar in his pursuit to bring safety and recovery to the aquatic world of Mon Calamari. Ackbar had long been a special friend of Winter's, from at least the time the two were privy to the secret location of Anoth.
Winter's perfect memory made her a useful spy for the New Republic during the Galactic Civil War. Eventually, however, this ability would cause her some emotional difficulty, as she remembered every experience, even the most painful, in complete detail.
Behind the scenes
Appearances
Sources