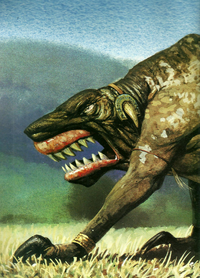 2-237-93 was a year in a dating system employed in certain locations. It was notable for being the date of birth of celebrated All Zectorn player Manac-Nebut.[1]
Behind the scenes
Edit
The nonstandard year of 2-237-93 was introduced as the year of birth of the athlete Manac-Nebut for a segment called "Prospects," intended as a sports column written by Bob Carrau for the 1993 book Monsters and Aliens from George Lucas, a publication that combines creature designs and photographs from various projects of George Lucas, creator of the Star Wars franchise, with original text by Carrau.[1] Lucasfilm employee Leland Chee, who maintains the Holocron continuity database, has indicated that information contained in the book is non-canonical.[2]
Notes and references
Edit
Ad blocker interference detected!
Wikia is a free-to-use site that makes money from advertising. We have a modified experience for viewers using ad blockers

Wikia is not accessible if you've made further modifications. Remove the custom ad blocker rule(s) and the page will load as expected.