3224
Talk

2
103,551pages on
this wiki
Redirected from 31174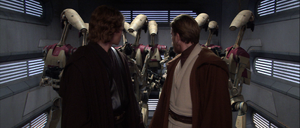 3224 was an elevator aboard the Invisible Hand.
During the Battle of Coruscant, Obi-Wan Kenobi and Anakin Skywalker used this elevator while rescuing Chancellor Palpatine. The lift had been shut down and R2-D2 sought to remedy this, but Anakin impatiently cut a hole in the roof of the lift. Meanwhile, R2-D2 managed to reactivate it, first sending it down, but then correcting its direction to up.
After retrieving the Chancellor, Skywalker, an unconscious Kenobi, and Chancellor Palpatine himself used in the elevator again, this time to escape the ship. However, a barrage of turbolaser fire from the Star Destroyer Guarlara knocked the Invisible Hand out of orbit. This meant that Anakin and Palpatine ran down the elevator shaft while the ship was vertical, but as the ship leveled out, they became stuck when Obi-Wan regained consciousness. 3224 was later lost when the rear half of the Invisible Hand broke in twain above Coruscant.
Appearances
Edit