4 ABY
Talk

2
110,040pages on
this wiki
The following events took place in 4 ABY.
This year was known as Year 39 after the Great ReSynchronization and Year 1,004 after the Ruusan Reformation.
Some factions temporarily set this year as 'year 0', until the establishment of the Battle of Yavin-based calendar two decades later.
End of the Virgillian Civil War
Desilijic family started to lose their power and influence after the death of Jabba Desilijic Tiure.
Permanent dissolution of the Hutt Cartel and temporary dissolution of Jabba Desilijic Tiure's criminal empire
Luke Skywalker returned to Dagobah to complete his Jedi training, as he had promised to his mentor a year earlier, but Yoda died of old age before he could do so. However he told Luke he must confront Darth Vader to become a Jedi Knight.
The Force was brought back into balance when Anakin Skywalker destroyed the Sith. However the Order of the Sith Lords lived on, since Palpatine transferred his essence to clones of himself on Byss for the first time.
The Galactic Empire began its fall after the death of Galactic Emperor Palpatine, his apprentice, Darth Vader, and the destruction of the Second Death Star over Endor.
IG-88's Droid Revolution came to an end after its destruction with the second Death Star.
The Imperial Civil War begins.
With the Rebel Alliance's celebration on the Sanctuary Moon, Bright Tree Village on Endor became the successor of Haven Base on Arbra as the command center of the Alliance.
An uprising on Coruscant was brutally quashed by Ysanne Isard, Director of Imperial Intelligence.
An experimental Ssi-ruuvi hyperdrive that had crash-landed on the Mid Rim planet Garos IV around 25,000 BBY was found.[9]
Bakura Truce and subsequent liberation of Bakura from Imperial rule
Fragmentation of the Galactic Empire
The Rebel Alliance was reorganized into the Alliance of Free Planets one week after the Alliance's victory at the Battle of Endor, with Endor as its center.
Zsinj's Empire was formed.
The Pentastar Talks lead to the signing of the Pentastar Alignment Treaty and the establishment of the Pentastar Alignment.[10]
Formation of Lumiya's Sith by Lumiya
The Alliance of Free Planets was reorganized into the New Republic with the Declaration of a New Republic signed, and the New Republic Provisional Council established on Endor as the temporary capital, one month after the Declaration of the Alliance of Free Planets.
The Nagai–Tof War ended.
Nar Shaddaa finally lost its shielding due the malfunction.[11]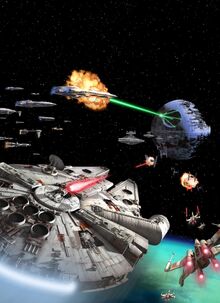 In the Skirmish at Carkoon
On Cilpar
In the Nagai–Tof War
During the Liberation of Kashyyyk
Unknown date
Edit
Appearances
Edit
Non-canon appearances
Edit
Notes and references
Edit
↑ 1.0 1.1 1.2 1.3 The Essential Guide to Warfare and The New Essential Chronology establish the endpoints of this era as 19 BBY and 4 ABY.
↑ Star Wars: Dawn of the Jedi Volume 2—Prisoner of Bogan establishes the year 36,453 BBY as the date of the Tho Yor Arrival, which is the zero point of the Tho Yor Arrival dating system, meaning the difference between the calendar based on the Battle of Yavin and the TYA year-notation system is 36,453 years. This date is derived from simple math based upon other confirmed dates.
↑ The New Essential Chronology states that the Great Hyperspace War began in 5000 BBY, which is 1,347 BTC in Star Wars: The Old Republic

'

s Galactic Timeline, so the difference between the calendar based on the Battle of Yavin and the calendar based on the Treaty of Coruscant is 3,653 years. This date is derived using simple math based upon other confirmed dates.
↑ The New Essential Chronology states that the Ruusan Reformation occurred in 1000 BBY, which is the zero point of the calendar based on the Ruusan Reformation, so the difference between the calendar based on the Battle of Yavin and the Ruusan Reformation's year-notation system is 1,000 years. This date is derived using simple math based upon other confirmed dates.
↑ The Essential Atlas places the Battle of Yavin, the zero point in the Galactic Standard Calendar, in 35:3 under the Great ReSynchronization dating system. The Essential Atlas also places the Battle of Selaggis on 43:2:28 and the Battle of Dathomir on 43:3:21. The Essential Guide to Warfare and The Essential Atlas both place the Battle of Dathomir in 8 ABY. The Essential Guide to Warfare also places the Battle of Selaggis in 7 ABY, confirming the placement of the division between each Galactic Standard Calendar year as the third month in the Great ReSynchronization year. Thus, there is a two-month gap between the two dating systems, and the first two months of a GrS year are the last two of the preceding Galactic Standard Calendar year. The Great ReSynchronization was instituted in 35 BBY, so there is a total difference of 35 years and 2 months between the two systems. This article's date is therefore derived from simple math based on this reference explanation.
↑ 6.00 6.01 6.02 6.03 6.04 6.05 6.06 6.07 6.08 6.09 6.10 6.11 6.12 6.13 6.14 6.15 6.16 6.17 6.18 6.19 6.20 6.21 6.22 6.23 6.24 6.25 6.26 6.27 6.28 6.29 6.30 6.31 6.32 6.33 6.34 6.35 6.36 6.37 6.38 Star Wars Episode VI: Return of the Jedi
↑  "Star Wars Eras" – "Keeper of the Holocron's Blog," Leland Chee's StarWars.com Blog (content now obsolete; backup link on Archive.org)
↑ 12.00 12.01 12.02 12.03 12.04 12.05 12.06 12.07 12.08 12.09 12.10 12.11 12.12 12.13 12.14 12.15 12.16 12.17 The Essential Atlas
↑  Yoxgit in the Databank (content now obsolete; backup link on Archive.org)
↑  Silya Shessaun in the Databank (content now obsolete; backup link on Archive.org)
---