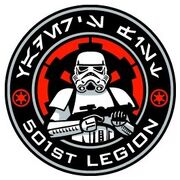 "My reason for joining is two-fold: For one, it allows me to take part in my biggest fantasy world and my favorite sci-fi adventure of all time. Then it allows me to do that while helping out my community. I would say that the 501st is a worldwide organization of Star Wars costumers that use their love of Star Wars to help out and promote community interaction and to bring joy to people's lives in ways they never thought possible. Name any other fan group that does that and looks amazing at the same time!"
―David Reimer TB-1184, Southern Outpost
The 501st Legion (a.k.a. Vader's Fist) is a worldwide organization of Star Wars fans, formed by Albin Johnson. The 501st Legion is the world's largest Imperial costuming organization, spanning the entire United States and 59 other countries. Its website is 501st.com. The 501st can often be found at promotional events for almost anything related to Star Wars and frequently put their "fame" to use at numerous charity events throughout the year (e.g., Toys for Tots, MDA Telethons, local children's hospitals, etc.).
Formed initially for the pristine white Death Star armored troops, the group has grown to include all Imperial trooper variations as well as Sith Lords, bounty hunters and other villains from both the movies and Expanded Universe (EU).
As a tribute to the group, the legion of blue clone troopers in Star Wars: Episode III Revenge of the Sith that Darth Vader leads into Jedi Temple during Operation: Knightfall is designated the 501st, officially making the group name canon. Although not mentioned in the film itself, much of the support and merchandising material for the film make this reference, including the videogame Star Wars: Battlefront II.
The 501st Legion also publishes Static Burst, its own quasi-quarterly newsletter, which is staffed entirely by volunteer members of the 501st. The Legion newsletter profiles current events, interviews, Trooper profiles, and efforts of 501st Legion members around the world. Lucasfilm's Steve Sansweet, Mary Franklin, Pablo Hidalgo, and Jeremy Bulloch have been past interviewees, and the newsletter has been compared to the Star Wars Insider with an all-Imperial slant.
The feature-length documentary film Heart of an Empire chronicles the growth of this organization and how, through acts of charity, the group touches the lives of children in need.
The Legion is also featured in the 2008 Guinness Book of World Records (on page 174) as the "World's Largest Star Wars Costuming Group."
In the 2015 film Star Wars: Episode VII The Force Awakens, a variation of the 501st logo can be seen on a banner in Maz Kanata's castle.[1]
Organization
Edit
The 501st is divided into a number of Garrisons, local "chapters" with jurisdiction over regions of varying size (anywhere from a portion of a state to multiple countries). Garrisons with many members can be subdivided into squads, much more localized versions of Garrisons. Regions that do not have a sufficient number of local members to form a Garrison can form an Outpost of at least one member.
Outside of the Garrison hierarchy, Detachments have no regional boundaries but are instead made up of members who have similar costumes (i.e., a Detachment of Scout troopers). A Detachment focuses on the technical details of its chosen costume(s).
Legion officials
Edit
At the Legion and Garrison level members can be elected to a number of positions to facilitate communication throughout the organization. Other positions are appointed by Legion and Garrison Commanders. These elections are held beginning every January, and any active member in good standing is eligible to hold office in the Legion or in their assigned Garrison.
The elected positions consist of:
LCO, the Legion Commander
CO, the Garrison Commander or Outpost Leader at the local level
SLDR, Squad Leaders
DL, Detachment Leaders
OL, Outpost Leaders
Positions appointed by their respective Legion or Garrison Commander:
LXO, the Legion Executive Officer
XO, the Garrison Executive Officer
LMO, the Legion Membership Officer
GML, Garrison Membership Liaison
GWL, Garrison Web Liaison
COG, the Captain of the Guard (appointed by LCO, must be confirmed by council vote)
LWM, the Legion Webmaster
PRO, the Public Relations Officer
MOB, the Merchandise and Branding Officer
LCR, Legion Charity Officer
Local Garrison Commanders will frequently appoint Garrison-level Public Relations officers, Garrison Webmasters, and other Garrison administrative staff as necessary.
Members of the 501st not holding an official position are referred to as "Enlisted."
Garrisons
Edit
"I never go anywhere without my army."
Detachments
Edit
Membership
Edit
Anyone who is 18 years or older (for legal reasons) and in possession of a high-quality "bad guy" costume from the Star Wars universe is eligible for membership in the legion. Applications can be submitted on the official site. This process typically consists of the Legion Membership Officer (LMO) checking an applicant's submitted photos, and forwarding the information to the Garrison to which the member would belong. Requirements for the costume can typically be found at the Detachment sites listed below.
Upon registration, members are allowed to create their own four-digit number which becomes their Legion ID. Attached to the ID number is a two-letter prefix indicative of the type(s) of costume worn by that member (ex: TK 0000). Members with more than one costume simply have multiple prefixes attached; the one that's currently worn is typically the only one displayed (ex: TK/TB/SL 0000). Prefixes are as follows:
TK—Stormtrooper (inspired by the line "TK-421, why aren't you at your post?" from A New Hope)
TD—Sandtrooper
TS—Snowtrooper
TI—TIE pilot
TA—AT-AT Pilot
SL—Sith Lord
ID—Officer
IN—Death Star Trooper
TR—Royal Guard
TX—Special Operations Trooper
IS—AT-ST Pilot
IC—Imperial Crew
DZ—Denizen of the Empire
CT—Clone trooper (Revenge of the Sith, characterized by Phase II armor)
CB—BARC Trooper
CX—Special Operations Clone
CP—Clone Pilot
CF—Clone Firefighter
The armor
Edit
The trooper armor worn by the members is all fan constructed and distributed, and is made out of ABS, PVC, vinyl or fiberglass. As the costumes worn by the 501st are often not official Lucasfilm Ltd. licenses, George Lucas can (and has) sought legal action on those who sell armor. However, he has unofficially sanctioned the wearing and presentation of the costumes providing that the participants are not reimbursed financially for their appearances, and that they represent the franchise in a positive and respectful manner.
Amongst veteran members there is a saying that a set of armor is never complete, but is an ongoing project. Members will regularly update, modify, repair, and improve a costume, and no two sets of armor, once assembled, are identical. The most common modifications begin simple with cut sections or trimmed joints to allow for better flexibility. Troopers will typically also have some sort of ventilation system mounted in their helmet (also called the bucket) to assist with cooling. Many members will also build their voice amplification system into their helmet, while some will mount the speaker behind their chest plate.
Costumes that don't require the common armor pieces can vary, and specifics can be seen on the detachment websites.
Notes and references
Edit
↑  The 501st Legion on Facebook. 501st Legion (December 20, 2015). Retrieved on December 20, 2015. "As we lift our restrictions on spoilers, we thought it might be appropriate to express thanks for this "Easter egg" in ‪#‎TheForceAwakens‬. A variation of the ‪#‎501st‬ logo flies proudly on a flag at Maz Kanata's castle on the planet Takodana. Thank you to J. J. Abrams and all of the crew at Lucasfilm and Disney for honoring our contributions to the Star Wars franchise. ‪#‎StarWars‬ ‪#‎BadGuysDoingGood‬" (screenshot)
External links
Edit