A-series medical droid
Talk

0
107,271pages on
this wiki
A-series medical droid
Production information
Manufacturer
Model
Class

1st degree droid[1]

Chronological and political information
Era(s)
The A-series medical droid was a surgical droid manufactured by MerenData. It specialized in cybernetics, prostheses, and other types of implants.
Characteristics
Edit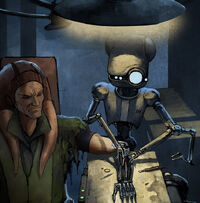 The A-series medical droid was a very efficient surgical droid that was designed to assist physicians performing cybernetic operations, and their programming caused them to view prosthetic and cyborg implants as superior to flesh and bone. They were so good that many facilities upgraded the A-series from assistants to chief surgeons. This would have worked well except the A-series were not programmed with any decision making capability and they often chose to replace perfectly healthy body parts with cybernetic implants, which the droids viewed as more efficient.[1]
The flaw in the A-series programming and operation caused the A-series medical droid to became one of only a handful of droid models to be declared illegal by the Galactic Senate. The Senate decreed that all A-series were to be destroyed and production was stopped. However, MerenData never officially issued a recall on the droid line and many A-series medical droids remained in service by owners who were either ignorant or apathetic about the Senate's decree.[1] One such droid was owned by General Grievous, cyborg Supreme Commander of the Droid Armies of the Confederacy of Independent Systems. His A-series droid, EV-A4-D, was stationed at his fortress on the third moon of Vassek and assisted in repairing any damage Grievous obtained in combat.[2]
Appearances
Edit
Notes and references
Edit