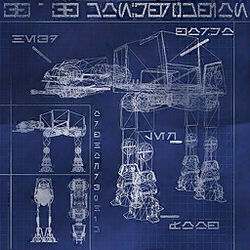 An AT-AT Blueprint were design specs for the All Terrain Armored Transport also known as the AT-AT, utilized by the Galactic Empire.
Behind the scenes
Edit
The AT-AT Blueprint was an item that was procurable by redeeming a trading card of the same name in-game. Upon procuring it, it can be utilized alongside an AT-AT Head, a Kneeling Vader Statuette, and an AT-AT Statuette to build an AT-AT house.
Appearances
Edit
External links
Edit
Ad blocker interference detected!
Wikia is a free-to-use site that makes money from advertising. We have a modified experience for viewers using ad blockers

Wikia is not accessible if you've made further modifications. Remove the custom ad blocker rule(s) and the page will load as expected.