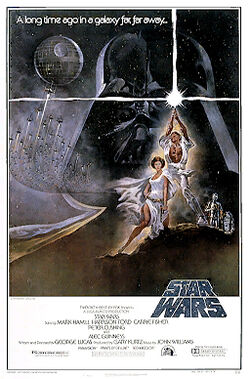 A New Hope was a painting depicting Darth Vader's head, Luke Skywalker, Leia Organa, C-3PO, R2-D2, the Death Star I, and some starfighters. It was made to commemorate the thirtieth anniversary of something called Star Wars.
The painting included some text in the High Galactic alphabet, including Star Wars—the title of what was being commemorated—and a tagline: "A long time ago in a galaxy far, far away..." The meaning of this tagline is dubious, since everything depicted existed in the same galaxy as the painting itself. There was also a list of ambiguous names, possibly entertainers within the saga being noted, written in the High Galactic alphabet.
Behind the scenes
Edit
This painting was only given out to players of Star Wars Galaxies who logged on during the 30th anniversary celebration of Star Wars. Unlike the other items specific to this celebration, which had to be acquired from Non-Player Characters (NPC's), A New Hope was placed immediately in the player's inventory.
This painting is actually the theatrical poster for Star Wars: Episode IV A New Hope, a 1977 movie made by George Lucas, and the first film in the Star Wars saga.
Appearances
Edit