The Action IV transport was a Corellian Engineering Corporation medium bulk freighter of the Action series.
Characteristics
Edit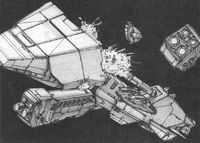 It had a trapezoidal shape and was roughly 100 meters in length. Internally, its holds could be adapted to various pressures and climates with individual configurations.
Even though each ship was sold without any weaponry or defensive shields built in, plenty of after-market systems could be added to the Action IV.
During the time of the Galactic Republic, the Action IV transport Azure Queen was captured by Black Sun pirates, while en route to the planet Rutan.[2]
The Imperial Navy refitted a number of them as Imperial Patrol Ships.
Appearances
Edit
Notes and references
Edit
Ad blocker interference detected!
Wikia is a free-to-use site that makes money from advertising. We have a modified experience for viewers using ad blockers

Wikia is not accessible if you've made further modifications. Remove the custom ad blocker rule(s) and the page will load as expected.