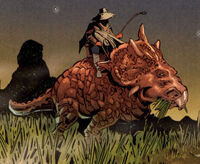 This beast was a reptilian animal present on Agamar. It was a quadruped, with a thick tail and bone protrusions rising from a flared crest at the rear of its head. The Agamarian beast ate only grass and trees.
During her voyage to Agamar to warn Emperor Roan Fel of Operation: Thunderstroke, Moff Nyna Calixte rode one of these beasts.
Appearances
Edit
Ad blocker interference detected!
Wikia is a free-to-use site that makes money from advertising. We have a modified experience for viewers using ad blockers

Wikia is not accessible if you've made further modifications. Remove the custom ad blocker rule(s) and the page will load as expected.