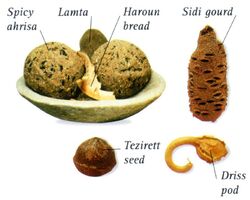 Ahrisa was a spicy food made of greens and soypro. Usually served in small portions, rolled into a ball and eaten with bread. It was served in many cafes on Coruscant in the last years of the Old Republic. It was also available at the Mos Espa marketplace on Tatooine. Shmi Skywalker served ahrisa to Qui-Gon Jinn and his companions.
Appearances
Edit
External links
Edit
Ad blocker interference detected!
Wikia is a free-to-use site that makes money from advertising. We have a modified experience for viewers using ad blockers

Wikia is not accessible if you've made further modifications. Remove the custom ad blocker rule(s) and the page will load as expected.