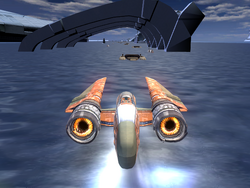 "The swoop racing here has been falling apart, ever since the Sith bombed Taris."
―Human traveler
The Ahto City swoop track was a swoop racing venue in the center of Ahto City on the planet Manaan. The track was operated by Selkaths Sslamoth and T'sllth, during the Jedi Civil War. The design was such that vehicles would hover over the surface of the water. Registration for the race could be done in Ahto East. Some complained, however, that the racing venue suffered with the destruction of Taris. During the Jedi Civil War, the track featured Hukta Jax, Casandra Mateil and Queedle Molto as prominent swoop racers.
Appearances
Edit
Ad blocker interference detected!
Wikia is a free-to-use site that makes money from advertising. We have a modified experience for viewers using ad blockers

Wikia is not accessible if you've made further modifications. Remove the custom ad blocker rule(s) and the page will load as expected.