Ad blocker interference detected!
Wikia is a free-to-use site that makes money from advertising. We have a modified experience for viewers using ad blockers

Wikia is not accessible if you've made further modifications. Remove the custom ad blocker rule(s) and the page will load as expected.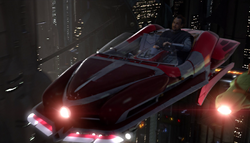 "Oh you know Master, I couldn't find a speeder that I really liked, with the open cockpit and the right speed capabilities… and then you know I had to get a really gonzo color…"
―Anakin Skywalker
Airspeeders, also called air speeders or simply speeders, were repulsorlift vehicles common throughout the galaxy. On extremely urban planets such as Coruscant, airspeeders were controlled by skylanes to allow them to maneuver between the dense streams of traffic and skyscrapers.[1][2]
Appearances
Edit
Notes and references
Edit