The Alderaan Guard was the royal and diplomatic protective security force on the planet Alderaan.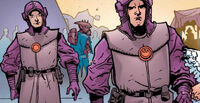 Royal Guards protected the Aldera Royal Palace as well as the members of the House of Organa and were largely ceremonial in nature. They wore traditional armor and slack hats and were equipped with riot-halting repellant foam and antiquated and ineffectual long rifles that were usually only fired at royal funerals.
The Alderaanian Guard, or Senatorial Guard, protected Alderaan's delegation to the Galactic and Imperial Senates and various Alderaanian diplomats. The Guard also had a space presence, consisting of Alderaanian War Frigates and Alderaanian War Cruisers.
Appearances
Edit
Ad blocker interference detected!
Wikia is a free-to-use site that makes money from advertising. We have a modified experience for viewers using ad blockers

Wikia is not accessible if you've made further modifications. Remove the custom ad blocker rule(s) and the page will load as expected.