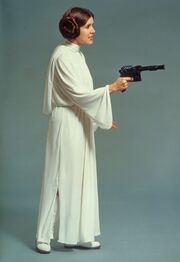 The traditional gown of the Alderaan royal family was a garb worn by the women of the royal class on the planet Alderaan. As a Princess of Alderaan and a member of the Imperial Senate, Leia Organa often wore this classic attire, which consisted of a white gown with long flared sleeves, a turtleneck and a hood. The white color itself was the trademark of the Alderaan Royal family.[1] Organa kept wearing similar garments throughout the early stages of the Galactic Civil War[2] and on board the medical frigate Redemption in 3 ABY.[3]
Appearances
Edit
Notes and references
Edit
Ad blocker interference detected!
Wikia is a free-to-use site that makes money from advertising. We have a modified experience for viewers using ad blockers

Wikia is not accessible if you've made further modifications. Remove the custom ad blocker rule(s) and the page will load as expected.