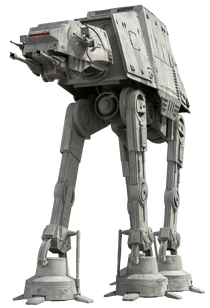 All Terrain, also referred to as AT-series, or the AT-series walker family, vehicles were a series of walkers made by Kuat Drive Yards, its subsidiaries Rothana Heavy Engineering, and Kuat Systems Engineering, and was most widely used by the Galactic Republic and the Galactic Empire.
Walkers in the line
Edit
Characteristics
Edit
The AT series from the Kuat Drive Yards sported a general design scheme resembling modern tank armor. The primary weapons were almost always some kind of laser cannon, though the amount and power varied from vehicle to vehicle. The Galactic Republic's use of the AT series consisted of vehicles with red stripes to denote their affiliation, whereas the Galactic Empire's broad use of them was without stripes.[1]
Appearances
Edit
Notes and references
Edit
Ad blocker interference detected!
Wikia is a free-to-use site that makes money from advertising. We have a modified experience for viewers using ad blockers

Wikia is not accessible if you've made further modifications. Remove the custom ad blocker rule(s) and the page will load as expected.