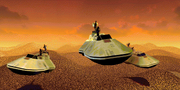 The majority of the Rebel Alliance ground forces consisted of Alliance Army Regiments. Neither well armored nor heavily armed, Alliance Army Regiments did not take long to create and equip. They were also cheap to maintain.
Appearances
Edit
Ad blocker interference detected!
Wikia is a free-to-use site that makes money from advertising. We have a modified experience for viewers using ad blockers

Wikia is not accessible if you've made further modifications. Remove the custom ad blocker rule(s) and the page will load as expected.