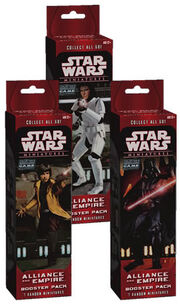 Alliance and Empire is the seventh expansion set to Wizards of the Coast's Star Wars Miniatures game. It was released in May 2007. This booster set was first revealed at Gen Con Indy 2006.
Alliance and Empire was part of a series of products to celebrate the 30th anniversary of Star Wars. Most of the miniatures are from the Original Trilogy, although the Darth Vader included in this set has a paint job based on his appearance in Revenge of the Sith. Conversely, the Vader included in the Revenge of the Sith set had a paint job resembling his appearance in the classic trilogy.
Most of the Common and Uncommon miniatures are less complicated, while the Rare and Very Rare characters feature the best special abilities. Characters also appear on square bases, exclusive to this set, with the Star Wars logo emblazoned on the front of the base. The character cards for this set are red instead of the standard blue.
The set represents more Yuuzhan Vong and introduces Wicket and a translucent spirit version of Obi-Wan Kenobi. Biggs Darklighter and Ephant Mon were also included in the set. First announced in a preview in the Wizards of the Coast 2007 catalog.
Rarity denoted as follows: Common (C), Uncommon (U), Rare (R), Very Rare (VR)
Characters are listed in set order.
REPUBLIC
SEPARATIST
REBEL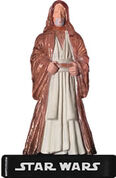 IMPERIAL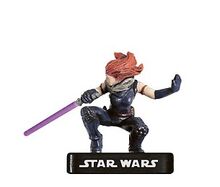 NEW REPUBLIC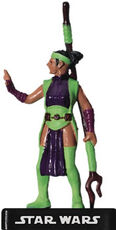 FRINGE
YUUZHAN VONG
58/60 Advance Agent, Officer (UC)
59/60 Advance Scout (C)
60/60 Yomin Carr (VR)
Controversy
Edit
On April 12th, 2007, the first accounts of unofficial sales of the expected set before the scheduled release date were confirmed when several critical pieces of information about the set were made public including scanned copies of character cards, pictures, and the official set list. Specific character stats have also been unofficially made available. This information has appeared on several websites and message boards since the discovery. The early sales occurred in Spain after an alleged error indicated that the street date for sale was seven weeks before the official release. Some of the pieces appeared briefly on E-Bay before they were taken off the auction site. Wizards of the Coast has made extensive efforts to keep the content "under wraps" as George Lucas was explicit that he wanted the miniatures to be unveiled on the official day of release. Additionally, the legal ramifications for this could be severe since Wizards of the Coast is a publicly-traded company and the information is considered a trade secret until the official release and the official release date falls under contract law. At this time no official announcements about prosecution have been made by Wizards. Because of all of the commotion regarding this issue, WizO_Sith, a moderator for the Wizards of the Coast forums, made the following announcement on April 17th, 2007 (directly from Wizards' HQ): "Wizards of the Coast is aware of an error in shipping of Alliance and Empire in our European market. We have taken swift and immediate action to correct the error and apologize for any inconvenience this may have caused."
External links
Edit