Allyan Magic
Talk

4
103,478pages on
this wiki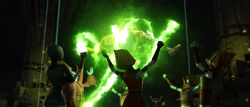 "Wanting to be as far-removed from the evil Nightsisters as possible, most clans began calling their power "Allyan Magic," for they believed that the Nightsisters had corrupted the beauty of the original magic cast by the fallen Jedi, Allya."
Allyan Magic, also referred to as Dathomir Magic or Magicks by the Nightsisters, was the name given to use of the Force and Force powers by the Witches of Dathomir. The name was derived from the rogue Jedi Allya, who was exiled to Dathomir and taught the powers of the Force to her children there, giving them an evolutionary advantage over Dathomir's other inhabitants. As a result, many generations of Allya's descendants survived. However, the practitioners of Allyan Magic believed themselves to be casting spells rather than making use of the Force, and often were unable to make use of a "spell" without speaking its assigned name or performing the ritualized singing, dancing, chanting, and/or writing associated with it. The work of the Force was attributed to the Spirits instead.
The skills in the Force that the Witches of Dathomir possessed changed the many generations since Allya's arrival on Dathomir, as knowledge was shaped by traditions and time from what Allya originally taught. It seemed that the Witches were only gifted in certain aspects of Force use, some in healing, others in Force Whirlwind, and so forth. During the Clone Wars, Mother Talzin and her Nightsister clan had used their Magick to enhance Savage Opress's features: longer horns, taller, and larger physique. Furthermore, Talzin used her Magick to cure Darth Maul of his insanity and grant him prosthetic legs.
It also turns out if a limb is removed or a person affected by Magick is killed, Magick will spill. On Florrum, during their duel with Obi-Wan Kenobi, Savage lost his arm and Magick poured out. In addition, Maul spilled Magick from leg that was shot off. Finally, during their vicious duel against Darth Sidious on Mandalore, Savage was impaled. Magick briefly poured out of his wounds and evaporated after he was reverted back to his original form.
Teneniel Djo of the Singing Mountain Clan of Witches was very impressed by Luke Skywalker's strength in the Force, and had never seen such strength before.
Characteristics
Edit
There were two schools of Dathomir Magic. The first, traditional Allyan Magic, followed rules put forth in the Book of Law, a tome of moral and ethical teachings kept and modified by each clan based on an original created by Allya for her daughters. The other, called "Shadow Magic" by its originator, Gethzerion, was the provenance of the Nightsisters. Their book, the Book of Shadows, tells of future glories the Nightsisters will gather in the heavens.
Appearances
Edit