Ad blocker interference detected!
Wikia is a free-to-use site that makes money from advertising. We have a modified experience for viewers using ad blockers

Wikia is not accessible if you've made further modifications. Remove the custom ad blocker rule(s) and the page will load as expected.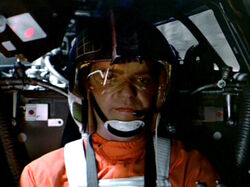 Angus MacInnes was the actor who played Gold Leader in Star Wars: Episode IV A New Hope.
MacInnes was born in Windsor, Ontario (Canada) on October 27, 1947. He has lived and worked in the US, Canada and the UK.
Biography
Edit
He studied acting during his college years, then did post graduate work in Great Britain at the London Academy of Music and Dramatic Arts, during the late 1960s and first 1970s. His first role in a movie was in Norman Jewison's sci-fi flick Rollerball (1975), where he played one of the guards escorting star Jonathan E. (James Caan). Coincidentially, the captain of the guards was none other than Burnell Tucker, who played different Rebel officers in both A New Hope and Empire Strikes Back. As MacInnes' role was little more than Human background, he would not be recognized with an on-screen credit.
In 1977, MacInnes appeared in another TV series, returning to sci-fi genre. He played Jelto for an episode of Space: 1999, particularly Devil's Planet, working with star Martin Landau.
In 1977 he acted in Star Wars: Episode IV A New Hope. His role was one of the fighter pilots, the leader of the Gold Squadron. He was briefly named "Dutch" (as in Netherlandic) in popular line "We've lost Tiree and Dutch", but expanded universe later gave him a full name, Jon "Dutch" Vander, plus a past (Vander is a native of Wayland, for instance). MacInnes would not return to the Star Wars saga for further installments of the series, as his character died in the Battle of Yavin. However, he would coincide with some of the stars of the series, including Harrison Ford, for his following movie: Guy Hamilton's Force 10 from Navarone (1978). His role as First Lieutenant Doug Reynolds was discreet, as it would became a norm for him.
He had appeared in many movies such Eyes Wide Shut, The Krays, The Jacket, and The Black Dahlia. He has played minor parts in most movies he was in, but did have a secondary but memorable role as ex-hockey player/mental patient Jean LaRose in the cult favorite Strange Brew. He has done some theater work as well.
Bibliography
Edit
External links
Edit