Ania Solo
Talk

24
103,598pages on
this wiki
Ania Solo
Physical description
Species
Gender
Hair color
Eye color

Brown[1]

Skin color

Fair[1]

Chronological and political information
Era(s)
"Not scum. Ania. Ania Solo."
―Ania Solo
Ania Solo was a Human female who was a member of the House of Solo, a descendant of the smuggler Han Solo and the Jedi Knight Leia Organa Solo. By 138 ABY, Solo was working as a junk dealer in the Carreras system, and she accidentally discovered the lightsaber of Imperial Knight Yalta Val after an Imperial comm droid containing the lightsaber turned up in her junkyard. Enlisting the help of her Mon Calamari friend Sauk, Solo attempted to sell the weapon on Carreras Major, but was turned away by the shop owner, and she killed a guard when the man attempted to take it from her.
Biography
Edit
"So we use this as our way out. One big score, then we make our own rules."
―Ania Solo, to Sauk
A Human female descendant of Han Solo and Leia Organa Solo,[2] Ania Solo lived through the Second Imperial Civil War of 130–138 ABY, in which the Galactic Empire under the Sith Lord Darth Krayt was destroyed by the Empire-in-exile, the Jedi Order, and the Galactic Federation of Free Alliances. By 138 ABY, Solo was working as a junk dealer in the Carreras system, a star system near the Surd Nebula in the Outer Rim Territories. An individual named Tham and its partner delivered a shipment to her, and Tham became agitated when Solo refused to pay their price of ten thousand credits. The Human attempted to threaten her, but Solo summoned a large droid which she ordered to escort Tham and the man back to their starship.[1]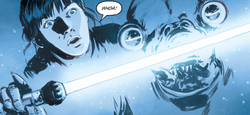 While looking through the shipment of junk, Solo discovered a Imperial comm droid, which had actually been launched by the crew of Imperial Knight Yalta Val a week earlier before their ship had been attacked. Solo took the droid to an ice mining platform in the rings of Carreras Minor, where she met with her friend Sauk and showed the Mon Calamari the comm droid. However, as Sauk examined the droid, the pair discovered Val's lightsaber, and Solo urged Sauk to shut off the lightsaber almost immediately when he activated the weapon. She then convinced Sauk to help her sell the lightsaber, persuading the Mon Calamari that it was their chance at a big score.[1]
On Carreras Major, Sauk and Solo witnessed a guard shoot an alien in the middle of the street, and she brushed aside Sauk's complaints and led him to a nearby shop. However, the owner refused to even consider buying the weapon in fear of being discovered by Governor Biala's security forces. When the shop owner insinuated that he might turn the pair in for possessing the weapon, Solo angrily confronted him, but the owner threw both Solo and Sauk out into the street. They were quickly set upon by a mounted guard, and Solo ran into an alleyway with Sauk to avoid the guard—but the two were forced to stop before they ran into a crowded intersection, allowing the guard to catch up to them. Angered by how the man called her and Sauk scum, Solo refused the guard's order to hand over the lightsaber and drew her blaster instead, shooting the man in the stomach and killing him.[1]
Personality and traits
Edit
"Maybe this junk dealer's a pushover."
"Don't count on it."
―A customer and Ania Solo
A Force-sensitive[3] Human female, Ania Solo had black hair, fair skin, and brown eyes. She was independent and stood up for herself, and she leaped at the chance to move onto something bigger after she and Sauk discovered the lightsaber of Imperial Knight Yalta Val. [1]
Behind the scenes
Edit
"The idea of a female lead was pitched to us, and that was a big, big thing that drew us to this project. It's fundamentally the opportunity to do something different in the "Star Wars" universe. It's a female character driving things so it gives you a new perspective on the universe but it's also a new way to tell classic "Star Wars" stories—or a classic type of "Star Wars" story—just from a fresh perspective."
―Gabriel Hardman
Ania Solo is the protagonist of the comic series Star Wars: Legacy Volume 2, a sequel to the original and similarly-named Star Wars: Legacy. The series is being written by Corinna Bechko and Gabriel Hardman, and additionally penciled by Hardman. The idea of a female lead originated outside of the writing team, but it played a significant role in drawing them to the project—both Bechko and Hardman believe it will allow them to write Star Wars from a fresh perspective. They have described her as a character who relies on her wits and does not take a lot of guff, but is nevertheless not a traditional badass female. Hardman hopes she will be "an inspiring but very down-to-Earth human sort of character, as well."[3]
Solo was first revealed to the public on December 3, 2012, in a solicitation for the series released on Comic Book Resources. She was identified as Han and Leia Organa Solo's great-granddaughter,[2] but Dark Horse Comics' solicitation for Legacy's first issue later named her as their great-great-granddaughter.[4] Bechko and Hardman have stated that how exactly she is related to them is a mystery that will not be revealed soon.[3]
Appearances
Edit
Notes and references
Edit