Anii Degarienne
123,689pages on
this wiki
Talk

4
Anii Degarienne
Biographical information




Died
Physical description
Species
Gender
Chronological and political information
Era(s)
Anii Degarienne was a Human female.
Biography
Edit
Anii Degarienne married her childhood friend Matt Turhaya prior to 6 BBY. She also convinced him to enter at the Imperial Naval Academy. Anii Degarienne eventually died in an explosion at a weapons manufacturing facility where she worked while her husband completed his training at the Imperial Academy.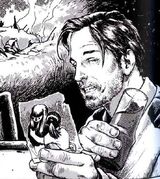 Matt was later affected to the Star Destroyer Relentless, leaving Anii's relatives cared for their daughter's six years old child, Alexandra, on the planet Janara III.[1] Anii's parents were later killed during an Imperial raid on the planet in 6 BBY but Alexandra survived.[2]
Behind the scenes
Edit
Author Charlene Newcomb expanded the story of Anii Degarienne of her website. Anii Degarienne and Matt Turhaya met on Corellia when they were 18 years old. Anii's accident took place on Carida six weeks before Matt's graduation. It was in fact a murder committed by the Empire because she was the daughter of a Jedi Knight named Lexi Degarienne. Degarienne was not actually his true last name. The Jedi was eventually discovered by Darth Vader's Jedi extermination group on Janara III. The Imperial raid on Janara III was a premeditated attack to kill Lexi Degarienne and it was successful.[3]
Appearances
Edit
Notes and references
Edit
External links
Edit