Animal nursery
Talk

1
103,567pages on
this wiki
Animal nursery
Constructed

Throughout galactic history

Builder
Usage
Era(s)
Affiliation
An animal nursery was a building used by all the major civilizations of the galaxy throughout history for the use of storing docile animals, such as banthas and nerfs, to create a continuous supply of food. Nurseries were produced by droid or organic workers such as Glurrgs or Wookiees at a cost of 100 units of carbon. Many techniques allowed an increase in food production by using advanced processes, such as cloning, stimulant use, and gene splicing.
The Confederacy of Independent Systems had access to particularly unique animal nurseries. After the Separatist Council was formed on Geonosis, the Geonosians shared their animal training techniques with the member systems. This allowed the Separatists to train acklays, nexus, and reeks. Building an animal nursery allowed an army to use mounted troopers.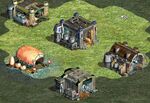 Behind the scenes
Edit
Animal nurseries appear in the 2001 video game Star Wars: Galactic Battlegrounds and its 2002 expansion pack.
Appearances
Edit