Ansel Hsiao is an artist who specializes in 3D modeling.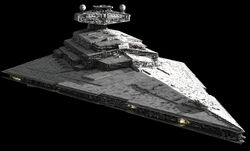 His Imperial-class Star Destroyer model was featured in Star Wars Insider 125 and he was one of the artists that provided illustrations for The Essential Guide to Warfare. Hsiao also supplied some information regarding the Assertor-class Star Dreadnought and the Bellator-class dreadnought in Star Wars Insider 134. In addition to his fanon artwork and the Imperial-class Star Destroyer model, he also did 3D representations of then-canon vessels for Warfare, including the Praetor II-class Star Battlecruiser, the Interdictor-class Star Destroyer, the Executor-class Star Dreadnought (which was also his first Star Wars-related 3D artwork), and the Harrower-class dreadnought.
Besides Star Wars-related modelling projects, he also was tasked with creating the final design for the UNSC Infinity for Halo 4.
Known contributions to the Star Wars franchise
Edit
Star Wars bibliography
Edit
External links
Edit
Ad blocker interference detected!
Wikia is a free-to-use site that makes money from advertising. We have a modified experience for viewers using ad blockers

Wikia is not accessible if you've made further modifications. Remove the custom ad blocker rule(s) and the page will load as expected.