The Antilles family of Corellia was a Human bloodline. Its marital relation to the Fel family created a unique blending of Imperial and New Republic viewpoints.
               Jagged Antilles---+---Zena Antilles
                                 |
                                 |
                      +----------------------+
                      |                      |
Soontir Fel--+--Syal Antilles Fel    Wedge Antilles--+--Iella Wessiri
             |                                       |
             |                                       |
             |                                  +----------+
             |                                  |          |
      (see Fel dynasty)                Syal Antilles  Myri Antilles

Appearances
Edit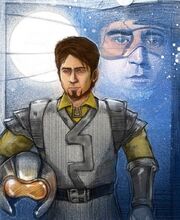 Ad blocker interference detected!
Wikia is a free-to-use site that makes money from advertising. We have a modified experience for viewers using ad blockers

Wikia is not accessible if you've made further modifications. Remove the custom ad blocker rule(s) and the page will load as expected.