Arbozoic trees were a species of tree that possessed attributes of planet-based and mineral-based species.
Description
Edit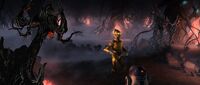 Arbozoic trees were a species of tree that dominated the ecology of the planet of Aleen. The strange glowing seeds of the arbozoic trees were crystalline in nature, and remained mysterious to researchers seeking to unlock their mysterious chemical composition. Growing in every climatic zone, the trees dotted the landscape of the surface of Aleen, while the root systems of the tree constituted over half of the living matter on and in the world. The Underworld was largely carved by the roots of the arbozoic trees, which spread out into the crust of the planet for kilometers. When a tree died, the roots rotted away to nothing from the inside out, leaving behind the caverns that comprised the habitat of the Kindalo.[1]
Appearances
Edit
Notes and references
Edit
Ad blocker interference detected!
Wikia is a free-to-use site that makes money from advertising. We have a modified experience for viewers using ad blockers

Wikia is not accessible if you've made further modifications. Remove the custom ad blocker rule(s) and the page will load as expected.