Ardees Beverage was a tea brand sold by the Ardees Beverage Company during the Clone Wars.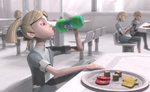 During the Clone Wars, a Moogan smuggling ring attempted to increase their income by diluting their shipments of the tea brand, which they brought from the Commerce Guild-run world of Mooga. The dilution agent used was slabin, a substance that could be lethal if combined incorrectly with other fluids. The diluted tea caused illness in Mandalorian children who drank it, leading the ring to be violently disbanded and its leaders and several members arrested or killed in resistance to arrest.
Appearances
Edit
Ad blocker interference detected!
Wikia is a free-to-use site that makes money from advertising. We have a modified experience for viewers using ad blockers

Wikia is not accessible if you've made further modifications. Remove the custom ad blocker rule(s) and the page will load as expected.