Arkoh Adasca
Talk

19
107,654pages on
this wiki
Arkoh Adasca
Biographical information
Homeworld
Died
Physical description
Species
Gender
Hair color

White

Eye color

White

Skin color

Tan

Chronological and political information
Era(s)
Affiliation
Arkoh Adasca—formally styled as Arkoh Adasca, eighth Lord of the House of Adasca—[1] was the eighth Lord of the House of Adasca and the ruler of the planet Arkania and its capital city of Adascopolis during the Mandalorian Wars. He was a member of the Adasca family and said to be the spitting image of his great-grandfather. He ran his family's business, the Adasca BioMechanical Corporation of Arkania, better known as Adascorp.
Biography
Edit
Early life
Edit
Arkoh Adasca was born to the House of Adasca on the planet of Arkania. A spoiled child, he was friends with a Padawan of the Jedi Order, Lucien Draay. Adasca would later recall that Draay disliked his father's parties.
As the years passed, Adasca's parents and grandparents died and he became the Eight Lord of the House of Adasca, as well as taking over the family's company, The Adasca BioMechanical Corporation of Arkania, commonly known as Adascorp. Adasca was incredibly well-known on his homeworld; new visitors to the city of Adascopolis were greeted by an enormous hologram of him, introducing them to Arkania.
Expanding his power
Edit
During the Mandalorian Wars, Adasca used his corporation's resources to continue his grandfather's search for Gorman Vandrayk, a scientist whom his grandfather had been using to complete a secret project to control exogorths.
In 3,963 BBY, Adasca captured Vandrayk—now known as "Camper"—as well as his protector, Jarael, and a Mandalorian called Rohlan Dyre aboard his flagship, the Arkanian Legacy. In the intervening years, Camper had gone quite mad, and Adasca quickly played upon Jarael's worry for the elderly man. He told her that Camper's illness was life-threatening, but that he could help the old man if the two of them remained aboard his ship. He provided Jarael a luxurious suite to stay in, but in truth, he had made a prisoner of both of them.
Dyre, in truth a mad scientist himself known as Demagol, saw through Adasca's ruse and confronted him about it. Adasca was impressed, remarking how "Arkanian" it was of him, and offered him a tour their biology facilities, a suite for himself, and tutoring from other Arkanian scientists, as well as a promise that when he no longer has any use for Camper, Demagol may have Jarael. All he required was Demagol's silence, which he received.
Final machinations
Edit
In time, the Legacy arrived at Omonoth, where exogorths were breeding and devouring every asteroid in sight. There, Adasca revealed his plan: the creatures were going to help win the war for Adascorp. Jarael tried to flee after hearing of his true intentions, but he informed her that he'd have Camper's hands cut off if she did so. Soon, a meeting that Adasca had arranged, between Mandalore the Ultimate and Admiral Saul Karath of the Galactic Republic, approached, and the invited parties began to arrive at the "Legacy".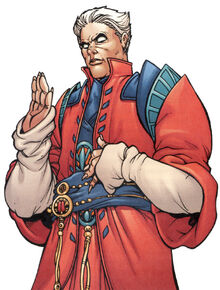 Draay, Adasca's childhood friend, after being told about Arkoh being up to something by his old mentor, arrived as a private guest. Adasca was perturbed that his old friend would look into his affairs, and quickly drugged him and took his lightsaber. Afterwards, he told Eejee Vamm, a cyborg in Adasca's employ, to throw him a cell along with Draay's former Padawan, Zayne Carrick, was being kept since Admiral Karath's arrival.
As all the guests arrived on the Legacy—save the leader of the Revanchists—Adasca explained his plans for exogorths and their destructive capabilities. He announced that with his new weapons, Adascorp would no longer accepted deals, but they may accept allies. Mandalore expressed interest in the exogorths, and asked Adasca if he could design an army for him. Adasca admired the idea, but said that the Mandalorians should be his army, and that he could create his own Jedi Order as well.
Adasca wrongly assumed that simply because he had a powerful weapon, the Mandalorians would pay him tribute. As Mandalore informed him that a weapon did not make him a warrior, Carrick (who had escaped his cell and now wore Mandalorian armor) attacked Republic Lieutenant Carth Onasi, causing the other Mandalorians to join the fight. Adasca's HK-24 battle droids joined the fray, but Carrick pulled his lightsaber and destroyed several of them before revealing himself to be a Jedi. Draay, too, showed his face amongst the crowd, and the pair of Jedi made it appear as if Adasca had arranged the whole meeting as a trap for the Mandalorians. The Mandalorians opened fire, seeking to fight their way off of the ship. In the middle of the wild brawl, Adasca ordered his forces to recapture Jarael be captured, even as she obtained a shockstaff from one of his guards and fought her way up to his throne.
As Mandalore and his forces left, Adasca pleaded with them, yelling that he still possessed control of the exogorths. As he ordered his forces to kill everyone on the ship, he was contacted by Camper, who had finally gained full control of the exogorths. Adasca ordered him to confront a true Arkanian; Camper complied by having the exogorths plunge into Adasca's observatory, tearing the Legacy apart and killing Adasca. Jarael, Carrick, and the others managed to escape, and Camper led the exogorths deep into Wild Space, where they couldn't hurt anyone.
On Coruscant, Admiral Karath decided to honor Adasca, thereby keeping the powerful company he'd controlled as a friend to the Republic.
While on Pantolomin, Jareal had a Force vision of Adasca, along with Darth Malak, Demagol, and Rohlan Dyre. The four men prodded Jarael about her forgotten past, which helped her to remember details that would later lead to a full discovery of where she'd come from and who she truly was.
Appearances
Edit
Notes and references
Edit
External links
Edit