Arok
Talk

4
103,567pages on
this wiki
Arok
Biographical information
Homeworld
Physical description
Species
Gender

Hermaphrodite (masculine personality)

Hair color

None

Eye color

Orange

Skin color

Blue and Yellow

Chronological and political information
Era(s)
Affiliation
Arok was an elder Hutt and a member of the Hutt Grand Council during the Clone Wars.
Biography
Edit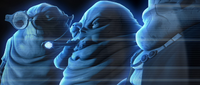 Arok the Hutt was born on the Hutt home world of Nal Hutta at some unknown date. Eventually, he became the head of his clan's Kajidic and earned a position on the Hutt Grand Council.
Around 21 BBY, he discussed the plans to release Ziro from Republic custody with other Hutt council members including Jabba, Gorga, Oruba, and Marlo, because Ziro had potentially damaging information about Hutt activities.
After Cad Bane succeeded in freeing Ziro by holding the Republic Senate hostage, Ziro was brought before the Hutt Council on Nal Hutta. When he informed the council he knew all too well that his release was due to the Holodiary which contained the Hutt Council records that was in his possession Arko angrily spoke out and implied the council could just as easily kill him. Ziro causualy shrugged the threat off and stated that if he was killed that the diary would then end up on the steps of the Senate. Ziro was then after taken to a holding cell.
Later, Arok and the council was entertained by Sy Snootles who performed the musical number Dal Hutt Moda and found the Pa'lowick very entertaining.
Arko did not speak when Jedi Knights Obi-Wan Kenobi and Quinlan Vos appeared before the Council and informed them of Ziro's escape. Later Arko, Gardulla, and Gorga found Ziro had escaped from his cell and claimed that the Jedi had freed the Hut. Cad Bane disagreed and informed the Hutts that Ziro had been freed a long time ago before the Jedi had arrived. Arok and the other Hutts managed to persuade Bane to go and recapture Ziro for them before the Jedi caught up with him.
A year later, Darth Maul, Savage Opress, and Pre Vizsla arrived in the Hutt Council chambers, requesting their allegiance and their territories in exchange for their lives being spared. Arok, Marlo (Hutt), and Oruba where the only Hutts present in person while Gorga and Jabba attended by Hologram. The Hutt council laughed at this and summoned bounty hunters to attack. When Maul and his forces retreated outside, Arok along with Marlo managed to escape but Oruba was captured and eventualy killed after telling the Collective that they could find Jabba at his palace on Tatooine.
Behind the scenes
Edit
Arok is voiced by Dee Bradley Baker. Just as his "Hunt for Ziro" co-star Marlo the Hutt is patterned after actor Marlon Brando, Arok's voice and appearance are styled after another actor famous for playing criminals, Edward G. Robinson.
Arok is also seen in the 9th edition of the Star Wars: The Clone Wars Magazine, by Titan Magazines. In it, he was identified of having a smoking habit.
Arok has the symbol of his Kajidic clan tattooed on his upper left arm.
Appearances
Edit