Arrow
Talk

2
103,453pages on
this wiki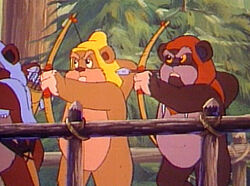 "A stone arrowhead will kill you just as dead as a blaster."
An arrow was the ammunition used in bows, a weapon that was, at its core, a reinforced string fixed to a piece of wood specially-treated to be flexible. Arrows consisted of a shaft attached to a sharp head of some kind; depending on the level of technology reached, they also used stabilizing fins attached to the rear. They were generally made either of wood with stone or metal points or durable, lightweight composite materials with solid heads, depending upon whether it was of primitve or advanced construction. They were generally useless against stormtrooper armor unless shot into the flexible bodysuit between armor plates. Some cultures also dipped their arrows in potent neurotoxins as a means to ensure those shot died an excruciating death.
Many different cultures used bows and arrows, from the Ewoks of Endor to a certain Jedi Knight who fought in the New Sith Wars before being killed in the Seventh Battle of Ruusan.
Appearances
Edit