Aryn Leneer
Talk

1
103,567pages on
this wiki
200px
Aryn Leneer
Biographical information
Homeworld
Physical description
Species
Gender
Hair color

Brown[1]

Eye color

Green[1]

Skin color

Light[1]

Chronological and political information
Era(s)
Affiliation
Known masters
Aryn Leneer was a female Human Jedi Knight and former Padawan of Master Ven Zallow. As an empath and an orphan, she was trained in the Jedi Order. Her master and long time friend, whom she regarded as her adoptive father, was Master Ven Zallow.
Biography
Great Galactic War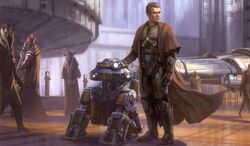 Apprenticed by Master Ven Zallow at an early age, most of Aryn's life was dedicated solely to the order, its teachings, and developed a strong, emotional bond with Master Zallow, as she perceived him not only as a teacher, but as a father.
Aryn was a member of Havoc Squad with Zeerid Korr in the early days of the Great Galactic War. A formidable and well honed combatant she was well respected by her teammates. She also frequently relied on her empathic abilities to console and comfort her squad mates through the rigors of warfare. Although she never consumed alcohol she would go to the cantinas with Havoc Squad after battles and training being a steadfast comrade and friend and would often be the shoulder to cry on after a nights hard drinking. Aryn, in particular, bonded with Zeerid when she aided him in coping with the death of his wife and crippling of his daughter.
Aryn battled alongside the Alderaanian army when the Imperial fleet invaded the planet. Her lightsaber and force skills, alongside of those with Satele Shan, helped turn the tide in order to repel the invasion.
Zallow death
She was one of the Jedi selected to accompany the Galactic Republic's delegation to Alderaan for the signing of a peace treaty with the Sith Empire. After sensing that her master Ven Zallow was killed, she left Alderaan to go to Coruscant to find out what had transpired.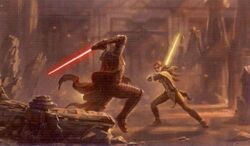 After discovering the ruined Jedi Temple, she found out that Darth Malgus was responsible for the events that had transpired [1], and the murder of Zallow. She engaged Malgus at the Jedi Temple, and following a lengthy display of athleticism, she left the battle early. Aryn, who was full of hate at that time, thought she could inflict more pain by killing his lover, Eleena Daru. After she let go of her excess anger and hunger for revenge, Aryn decided to spare the Twi'lek and face Malgus one last time. After a quick skirmish that was initially favoring Leneer, Malgus used his force powers to hurt the Jedi, and end the battle. However, noticing how Eleena had been spared, the Sith spared her life.
Ultimately, Aryn Leneer would never officially rejoin the Jedi Order. After the events on Coruscant, she had resigned. Eventually, she would reunite with her long time friend and fighting partner, Zeerid Korr; after he had also retired from the war.
Personality and traits
Being an empath, emotions of every range were a daily part of Aryn's life. This gave her the unique ability to personalize with those she interacted with. She laughed easily and earnestly among friends and consoled those whose lives were filled with pain or sadness. She was a steadfast friend and and would stick by her companions during hard times as she proved by neither questioning or abandoning Zeerid Korr when she found out that he was smuggling engspice for the Exchange. She could also give in to her own emotions as when her anger over Master Zallow's death nearly overwhelmed her, but in the end she was able to keep true to herself.
Powers and abilities
She was born with powerful Force empathy, a power that granted her the title of Force Empath. Due to her strong empathic abilities her bond with Master Zallow was augmented where she felt his death profoundly by feeling his pain as he died from a lightsaber wound. She was even able to perceive the exact point where the lightsaber had pierced her former master. This empathic power made her valuable as a counselor and peace negotiator as she could feel the emotions of those around her. She also understood most droidspeak.
Appearances
Sources
Notes and references
External links