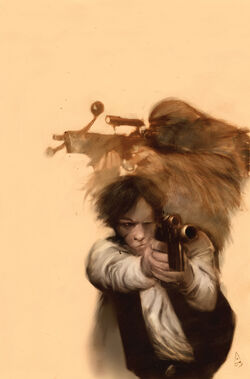 Ashley Wood (1971–present) is an artist who has contributed to several different Star Wars projects. He uses a blend of painting, digital photography, and graphic software, which gives his artwork a unique feel.
Biography
Edit
Ashley was born in Australia in 1971. He has worked with many major companies including LucasArts, Lucasfilm, DC Comics, Wizards of the Coast, Paizo, Marvel Comics, Activision, Dreamworks SKG, Warner Bros., Hasbro, Random House, McFarlane Entertainment, IDW, and Konami. Wood is a three-time Spectrum Award winner and a two-time Communication Arts award winner.
Wood started an Australia-based company, 7174 PTY Ltd., in 2004. 7174 creates "entertainment properties for the comic, film, toy, and video game industry among others." 1 One of his most recent endeavors is producing the WBR (World's Best Robots) toy line. The robots are based on designs by Ashley, and produced by HyperChild, a Hong Kong-based toy manufacturer.
Ashley currently lives in Perth, Western Australia with his wife, two sons, and three cats.
Star Wars contributions
Edit
Other works
Edit
External links
Edit
Ad blocker interference detected!
Wikia is a free-to-use site that makes money from advertising. We have a modified experience for viewers using ad blockers

Wikia is not accessible if you've made further modifications. Remove the custom ad blocker rule(s) and the page will load as expected.