There were many asteroid belts and clusters in the galaxy. Because of the erratic movements of various asteroids within the area, traveling through them is a very dangerous measure (being calculated once that successful travel through one had the odds of 3,720 to 1), often resulting in the destruction of various ships. It was therefore considered inadvisable to do so unless the pilot was extremely desperate.[1]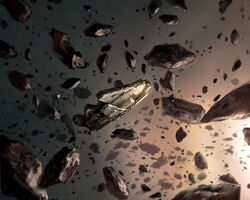 List of Asteroid belts, fields, or clusters
Edit
Appearances
Edit
Notes and references
Edit
Ad blocker interference detected!
Wikia is a free-to-use site that makes money from advertising. We have a modified experience for viewers using ad blockers

Wikia is not accessible if you've made further modifications. Remove the custom ad blocker rule(s) and the page will load as expected.