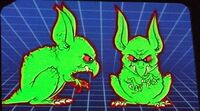 Aucfans were small rodent-like creatures, which were considered as vermin. They had green skin, two large sharp ears and two red eyes. These creatures sometimes entered into cargo containers of spaceports or warehouses and had troubled the employees.
Behind the scenes
Edit
This creature appeared as a baby aucfan in the monitor screen through which a Mon Calamari supervisor talked with R2-D7 at the Tokyo Disneyland Star Tours.
Appearances
Edit
External links
Edit
Ad blocker interference detected!
Wikia is a free-to-use site that makes money from advertising. We have a modified experience for viewers using ad blockers

Wikia is not accessible if you've made further modifications. Remove the custom ad blocker rule(s) and the page will load as expected.