Augwynne Djo
Talk

0
103,455pages on
this wiki
Augwynne Djo
Biographical information
Homeworld
Physical description
Species
Gender
Hair color

White

Chronological and political information
Era(s)
Clan(s)
Affiliation
"Never concede to evil. That is our oldest and most sacred law. When we concede to evil, even in a small way, we feed it, and it grows stronger."
―Augwynne Djo
Augwynne Djo was a female Human who was the leader of the Singing Mountain Clan of Dathomiri Witches, the grandmother of Teneniel Djo, great-grandmother of Tenel Ka, and great-great grandmother of Allana.
Biography
Edit
"The Singing Mountain clan is in constant conflict with the Nightsisters, another clan of Force-users here on Dathomir."
―Augwynne Djo
Augwynne had suffered the loss of all four of her daughters: Gethzerion and Barukka were lost to the dark side and became Nightsisters, Kara'Teel died while protecting her from Gethzerion's attempt to kill her and rule the Singing Mountain Clan, and Allaya Djo, who had taken up leadership of the clan, met an untimely death in battle. Around 2 ABY Augwynne informed a Jedi Knight Rachi Sitra about a danger one of the Nightsisters, Kyrisa, had represented to her clan.[1]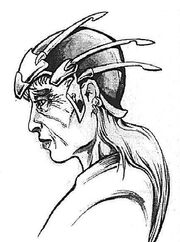 Augwynne was present when Han Solo, Chewbacca, and Leia Organa arrived at the Singing Mountain Clan, and declared Han a free man after Leia presented his case. She struck a deal with Han, if she got him off Dathomir and gave him gold gems from Dathomir, he would give her the deed to the planet. She did not complete Han's third request, as she could not make Leia marry Han.
Augwynne had no choice but to lead the sisters of the Singing Mountain Clan against Gethzerion's Nightsisters in order to give Han time to get the Millennium Falcon off Dathomir. She requested help from other clans, but none came. Thanks to Luke Skywalker, Isolder, Han, Leia, Chewbacca, and her granddaughter Teneniel Djo, the sisters of the Singing Mountain Clan were able to defend the clan and drive the Nightsisters away. Augwynne and the sisters were finally rid of the Nightsisters when they were shot down trying to escape Dathomir.
After the Battle of Dathomir, Augwynne became the owner of Dathomir when Han Solo turned over the deed. Around the same time, her surviving daughter Barukka returned from the dark and rejoined the clan, much to Augwynne's joy. She later helped Luke and her great-granddaughter Tenel Ka Djo find the resurgent Nightsisters and the Shadow Academy. It is unknown what happened to her during the Yuuzhan Vong invasion of Dathomir.
Behind the scenes
Edit
In Cracken's Threat Dossier, Augwynne's daughters are named as Gethzerion, Barukka, and Kara'Teel. Star Wars Encyclopedia and the Star Wars Customizable Card Game gives the name of her daughter as Allaya Djo. Curiously, she is also named as the person to have married Han and Leia Solo.
Appearances
Edit
Notes and references
Edit
↑ Star Wars Galaxies Trading Card Game – The Nightsister's Revenge (Light Side scenario campaign)