Axxila
123,688pages on
this wiki
Talk

14
Axxila
Astrographical information
Region
Sector
System
Moons

At least 3[2]

Grid coordinates

O-5[1]

Trade routes
Physical information
Class

Terrestrial[2]

Atmosphere
Primary terrain

Urban[2]

Points of interest
Societal information
Immigrated species
Primary language(s)
Demonym

Axxilan[4]

Major cities

Worldspanning metropolis[2]

Affiliation
"Turn Coruscant inside-out and make it a jail where the inmates are in control..."
Axxila was a planet in the D'Astan sector of the Outer Rim Territories.
Geography
Edit
"Axxila reminded me too much of Imperial Center, as if it the true reflection of Imperial Center in a mirror."
Axxila was an ecumenopolis, often described as "Coruscant, but inside-out".[2] It was located at the intersection of the Celanon Spur[3] and the hyperlane of industrial worlds that also contained Edusa and Vandyne.[5]
The system was home to the Axxila antipirate fleet.[6]
"People of Axxila, I am Admiral Krennel of the Reckoning. You harbor traitors to the Empire. You are scum who have long festered without proper discipline. Give me the traitors and I will refrain from visiting upon you the retribution you most assuredly deserve."
During the Jedi Civil War, Axxila was the site of a battle won by the Sith.[3]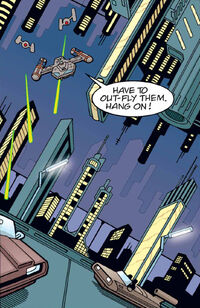 It was the homeworld of Imperial Admiral Firmus Piett, the last commanding officer of Darth Vader's Death Squadron.[6] During the Clone Wars, Axxila was part of the Ciutric Hegemony. When the Hegemony, along with Axxila, joined the Separatists, many Axxilan, known as the Free Axxilans, fled the planet and relocated to the planet Halmad.[4]
Following the end of the Clone Wars, many Separatist forces retreated to the neighboring Ciutric sector. The Crimson Dagger Command was relocated to Axxila in order to launch a reconquest campaign.[4] Several months after the Battle of Endor, Ysanne Isard sent Admiral Delak Krennel to attack the planet in order to prevent Sate Pestage from giving Coruscant to the New Republic. Krennel wiped out many civilians in the strike.[2] Krennel later took control of the Ciutric Hegemony, excepting Axxila.[3]
Axxila was conquered by the extra-galactic Yuuzhan Vong during the Yuuzhan Vong War.[3]
Appearances
Edit
Notes and references
Edit
↑ 1.0 1.1 1.2 1.3  Star Wars: The Essential Atlas Online Companion on StarWars.com (article) (backup link on Archive.org)
↑ 2.00 2.01 2.02 2.03 2.04 2.05 2.06 2.07 2.08 2.09 2.10 Star Wars: X-Wing Rogue Squadron: Masquerade