The B-12 bacta transport was manufactured by Kuat Drive Yards specifically to transport bacta.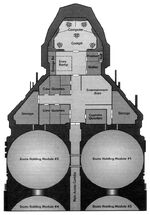 The B-12's hulls was a spinoff of the Lancer-class frigate and was 238 meters long. The ship carried 26 crew, 6 passengers, and 600,000 metric tons of bacta in sixteen pressurized spheres with controlled temperature to keep the bacta from spoiling.
Ad blocker interference detected!
Wikia is a free-to-use site that makes money from advertising. We have a modified experience for viewers using ad blockers

Wikia is not accessible if you've made further modifications. Remove the custom ad blocker rule(s) and the page will load as expected.