B1 battle droid sergeant
Talk

1
103,580pages on
this wiki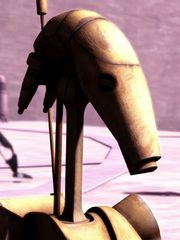 "They are on the move. Sergeant, the attack is coming."
―TX-20, to a B1 battle droid sergeant.
B1 battle droids sergeants were B1 battle droids ranked as sergeants which were used during the Clone Wars.They had Yellow Colors or Regular Coloring.
Sergeants gave guidance to a group of five to seven battle droids. Such a group was often referred for observation. A battle droid sergeant was addressed with his rank. The battle droids under his orders had to follow him but he had to follow the commander. They saw action on Teth, Geonosis, Skytop Station, and a few more places.
Known units
Edit
Appearances
Edit