B2-RP battle droid
Talk

11
107,687pages on
this wiki
B2-RP battle droid
Production information
Manufacturer
Product line
Model

B2-RP battle droid[1]

Class
Technical specifications
Height
Gender
Armament
Equipment

Built-in rocket pack[1]

Chronological and political information
Era(s)
Affiliation
The B2-RP battle droid, more commonly known as the rocket droid, the super droid, or the jetpack droid, was a CIS jetpack-equipped B2 super battle droid variant used during the Clone Wars.
Characteristics
Edit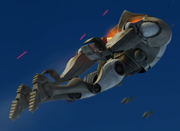 These droids were equipped with a built-in jetpack. To distinguish them from their more common infantry variants, they were painted with blue-white markings on their torsos, arms and legs.
Some droids were deployed by Juhm on Gwori to capture Ahsoka Tano and Captain Rex. However both managed to destroy the droids. About 100 rocket droids were used to board Aayla Secura's Venator-class Star Destroyer, the Liberty, during the Sky Battle of Quell. One even attacked a LAAT/i gunship, shooting at the pilot, although the latter managed to bail.[1]
Appearances
Edit
Notes and references
Edit