The BTL-A4 LP "Longprobe", otherwise known simply as the Y-wing Longprobe, was a variant of the standard BTL Y-wing starfighter used as a reconnaissance and scouting fighter by the Alliance to Restore the Republic during the Galactic Civil War.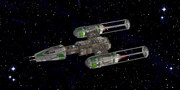 The ship was designed so it could better implement the longer-duration missions of the profile of the BTL Y-wing starfighter, such as scouting. As such, the second pilot for the S3 variant, as well as all on-board life and mission support equipment, were removed to allow for this. Because of the consequentially lighter frame, the ship could handle heavier payloads as a substitute for better avionics equipment or weapons-fit out and payloads. In addition, although the turret at the cockpit was retained, it has been changed to save on lightness and locked in the forward firing position.
Appearances
Edit
Notes and references
Edit
↑ 1.00 1.01 1.02 1.03 1.04 1.05 1.06 1.07 1.08 1.09 1.10 1.11 1.12 1.13 Starships of the Galaxy (Saga Edition)
External links
Edit
Ad blocker interference detected!
Wikia is a free-to-use site that makes money from advertising. We have a modified experience for viewers using ad blockers

Wikia is not accessible if you've made further modifications. Remove the custom ad blocker rule(s) and the page will load as expected.