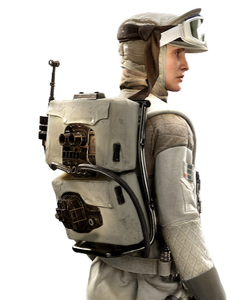 A backpack was a portable storage compartment with two straps that let it be placed on a users back. Backpacks were used in such notable occasions such as when Luke Skywalker used his backpack during his Jedi training on Dagobah.
Bacpacks were used also throughout the Clone Wars by clone troopers and Jedi, notably when Ahsoka Tano used a backpack as a way to store Rotta the Huttlet.
Appearances
Edit
Ad blocker interference detected!
Wikia is a free-to-use site that makes money from advertising. We have a modified experience for viewers using ad blockers

Wikia is not accessible if you've made further modifications. Remove the custom ad blocker rule(s) and the page will load as expected.