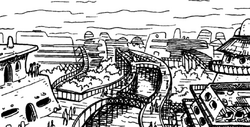 Bagsho was the largest free port in, and the capital city of, Nim Drovis. It was split into a New Town and an Old Town, with a canal running between the two. Most of the port was made of stone structures, topped with rickety wooden platforms, balconies, and bridges. Near the Old Town was the housing area known as Thousand Stinking Ditches. It contained the Sector Medical Facility.
Appearances
Edit
Ad blocker interference detected!
Wikia is a free-to-use site that makes money from advertising. We have a modified experience for viewers using ad blockers

Wikia is not accessible if you've made further modifications. Remove the custom ad blocker rule(s) and the page will load as expected.