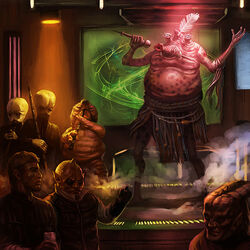 A band was a group a musicians who played their instruments in order to create music. A band often played in bars (such as Mos Eisley) to soothe their customers. Some examples of bands include the Max Rebo Band, Barefoot Band, and the Calcified Lichens.
Appearances
Edit
Ad blocker interference detected!
Wikia is a free-to-use site that makes money from advertising. We have a modified experience for viewers using ad blockers

Wikia is not accessible if you've made further modifications. Remove the custom ad blocker rule(s) and the page will load as expected.