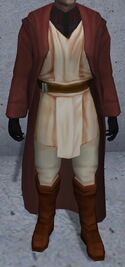 These robes were worn by the elite members of the Baran Do order. The Baran Do were Force-sensitives of the Kel Dor race and had been advisors and seers to the leaders of Kel Dor society. Their philosophy centered on seeking inner peace and consulting with the Force before making decisions. They also had the ability to see into the future.
Appearances
Edit
Ad blocker interference detected!
Wikia is a free-to-use site that makes money from advertising. We have a modified experience for viewers using ad blockers

Wikia is not accessible if you've made further modifications. Remove the custom ad blocker rule(s) and the page will load as expected.