The base defense walker was a four-legged combat walker used by the First Order for defense of Starkiller Base.[2] Several of the walkers were deployed across the planet to protect its installations, and at least three of them were present during General Armitage Hux's speech before the destruction of the Hosnian system.[3] Several base defense walkers could be stored in the ground vehicles storage area of a Resurgent-class Battlecruiser.[4]
Behind the scenes
Edit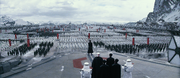 The base defense walker was first seen on the promotional image about First Order shared by Star Wars Twitter and Google+ accounts on August 10, 2015. In the picture, three walkers can be seen on the right.[1] The same scene appeared in Star Wars: Episode VII The Force Awakens.[3] The walker also appears in Star Wars: The Force Awakens: Incredible Cross-Sections, stored in the vehicles area of a Resurgent-class Battlecruiser.[4] Concept art for vehicles similar to the walkers appears in The Art of Star Wars: The Force Awakens.[5]
Appearances
Edit
Non-canon appearances
Edit
Notes and references
Edit
Ad blocker interference detected!
Wikia is a free-to-use site that makes money from advertising. We have a modified experience for viewers using ad blockers

Wikia is not accessible if you've made further modifications. Remove the custom ad blocker rule(s) and the page will load as expected.