"We're outgunned. We're not going to last a mynock minute out here."
―Ahsoka Tano
The Battle of Bothawui was an engagement that took place near the planet Bothawui in 22 BBY, during the Clone Wars.
The Galactic Republic's Grand Army had suffered several defeats by the Confederacy's General Grievous, which was weakening their strength in the the galaxy's Outer Rim. Among the losses was the fleet at Falleen, which fell to Grievous's fleet. Jedi Knight/General Anakin Skywalker, his apprentice Ahsoka Tano, and their flotilla of three Venator-class Star Destroyers were then assigned to protect and hold the strategically-important world of Bothawui. However, Jedi Council member Obi-Wan Kenobi urged Skywalker to retreat and regroup, knowing that Grievous was coming; spies had alerted the Separatist general to the presence of the Jedi cruisers beyond the planetary rings. Despite being outnumbered, Skywalker had devised a plan.[1]
The battle
Edit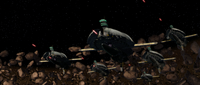 Grievous, reasoning that an attack from above would render his ships susceptible to enemy fire, ordered his fleet moved in to attack by approaching through Bothawui's asteroid belt, which, in addition to transferring power to his forward shields, protected his ships from Skywalker's fleet. When they got in range of Skywalker's fleet, Grievous' fleet opened fire, disabling the nearest of the three cruisers. Skywalker, flying as Gold Leader, commanded Gold Squadron as they took on Grievous' fleet. After losing several fighters, Skywalker then unveiled his surprise. Ahsoka then signaled Captain CT-7567 and his AT-TEs that had been positioned on the asteroids to open fire on Grievous' fleet from their rear.[1]
Working together Skywalker and Rex's AT-TEs were able to outflank and destroy Grievous's fleet. Sensing the momentum of the battle had changed, Grievous decided to retreat; however his droid captain inquired as to where. With the opporrtunity to escape lost, the general then took his personal starfighter, the Soulless One and flew himself away from the battle. Skywalker attempted to pursue him, but his fighter was damaged and incapacitated in the meteor field.[1]
Aftermath
Edit
Skywalker was then saved by Rex. However, R2 was lost and presumed destroyed.[1]
Appearances
Edit
Notes and references
Edit
↑ 1.00 1.01 1.02 1.03 1.04 1.05 1.06 1.07 1.08 1.09 1.10 1.11 1.12 1.13 1.14 1.15 1.16 1.17 1.18 1.19 1.20 1.21 1.22 1.23 1.24 1.25 1.26 1.27 1.28 1.29 1.30 1.31 1.32 1.33 1.34 1.35 1.36 Star Wars: The Clone Wars – "Downfall of a Droid"