First Battle of Dathomir (Galactic Civil War)
Talk

8
103,471pages on
this wiki
Previous
Next
First Battle of Dathomir
Conflict
Date
Place
Outcome

Silri freed, Imperial Governor killed, prisons destroyed

Combatants
Commanders

The Imperial Governor†

Strength

Various freed prisoners
Bribed stormtroopers and Imperial units

Casualties

Unknown; moderate to heavy
The Battle of Dathomir occurred when Tyber Zann, obsessed with opening a Sith Holocron, traveled with his lieutenant Urai Fen to Dathomir in order to find a Force-sensitive to unlock it.
Urai Fen, looking for dark side user to open the artifact, told Tyber of Dathomir. However, the Empire had blockaded the planet, so Tyber dispatched a Defiler to disable a scanner in order to give him and Urai an easy landing. The Defiler successfully destroyed the scanner.
The battle
Edit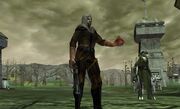 Arriving there, they attacked the Singing Mountain prison. They used a backdoor path behind the prison to avoid the anti-infantry cannons. They ran into a Phase I dark trooper early in their travels which they easily destroyed. Running into Royal Guards they managed to kill, as well as Stormtroopers, they killed or bribed them, then destroyed some high explosive fuel cells that destroyed the power generator and eliminated many Imperial vehicles. Destroying a Barracks, they ended up freeing the prisoners and three Nightsisters who told them of Silri, who had been imprisoned by the Imperial governor as part of a propaganda effort. The Nightsisters were led to their rancor steeds and helped Zann destroying an AT-AT, a number of Phase III dark troopers, and a number of stormtroopers. As they traveled across a bridge, however, they noticed turbolasers which would prevent their assault. A nearby dam on the river supplied power however, and they destroyed it. They freed Sirli, who grudgingly agreed to help in exchange for the death of the governor. Urai distrusted Silri immediately as she had tried to make Tyber let her free using an unsuccessful Force mind trick. After destroying the Imperial Governor's home, Silri, Urai, and Zann left, but not before Silri killed the Imperial Governor.
Appearances
Edit
Notes and references
Edit