"The Separatist Council is pleased, Grievous. You have taken a key planet with a minimum of loss."
―Count Dooku to General Grievous
The Battle of Gentes was a battle during the Clone Wars that took place two years after the First Battle of Geonosis.
General Grievous led the attack, with a battalion of battle droids behind him, leaving no opening for the unsuspecting Ugnaught inhabitants of Gentes. Grievous quickly destroyed the Ugnaught Administration Hub, disabling the planet's defenses, and took the entire Ugnaught population prisoner. Grievous then killed many of the Ugnaughts due to their uselessness.
Appearances
Edit
Notes and references
Edit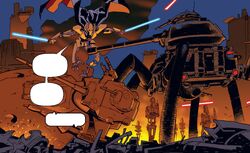 Ad blocker interference detected!
Wikia is a free-to-use site that makes money from advertising. We have a modified experience for viewers using ad blockers

Wikia is not accessible if you've made further modifications. Remove the custom ad blocker rule(s) and the page will load as expected.