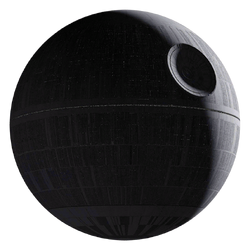 "Now witness the firepower of this fully armed and operational battle station."
―Emperor Palpatine, to Luke Skywalker
A battle station was any space station armed for combat. During of the Clone Wars, the Galactic Republic launched the construction of the Death Star, a battle station unlike anything the galaxy had ever seen.[1][2] Torpedo Spheres were battle stations that served as siege platforms, and were referred to as battlemoons.[3]
Appearances
Edit
Star Wars: Episode II Attack of the Clones (Appears in hologram)
Star Wars: The Clone Wars – "Ghosts of Mortis" (Superlaser only) (Vision to Anakin Skywalker)
Thrawn, Part IV (Cover only)
Thrawn, Part VI (Appears through imagination)
Star Wars Rebels – "The Honorable Ones" (Indirect mention only)
Star Wars Rebels – "Ghosts of Geonosis" (Appears in drawing)
Star Wars: Episode IV A New Hope (First appearance)
Escape from Darth Vader (Appears in final-page illustration only)
Star Wars Battlefront (DLC)
"Stories in the Sand"—From a Certain Point of View (Appears in hologram)
"Duty Roster"—From a Certain Point of View (Mentioned only)
"Grounded"—From a Certain Point of View (Mentioned only)
"The Angle"—From a Certain Point of View (Appears in hologram)
"By Whatever Sun"—From a Certain Point of View (Indirect mention only)
Princess Leia, Part I (Mentioned only)
 "The Trouble at Tibrin"—Star Wars Adventures 4 (Mentioned only)
Heir to the Jedi (Mentioned only)
The Weapon of a Jedi: A Luke Skywalker Adventure (Mentioned only)
The Weapon of a Jedi (Appears in flashback(s))
Star Wars 2: Skywalker Strikes, Part II (Indirect mention only)
Darth Vader 1: Vader (Appears in flashback(s))
Star Wars 4: Skywalker Strikes, Part IV (Indirect mention only)
Darth Vader 2: Vader, Part II (Indirect mention only)
Darth Vader 6: Vader, Part VI (Appears in flashback(s))
Darth Vader 7: Shadows and Secrets, Part I (Indirect mention only)
Darth Vader 8: Shadows and Secrets, Part II (Appears in hologram)
Han Solo, Part II (Mentioned only)
Doctor Aphra 3: Aphra, Part III (Mentioned only)
Doctor Aphra 22: The Catastrophe Con, Part III (Picture only) (Appears in hologram)
"Shu-Torun Lives"—Star Wars 50: Hope Dies, Part I (Appears in flashback(s))
Battlefront: Twilight Company (Mentioned only)
The Empire Strikes Back: So You Want to Be a Jedi? (Mentioned only)
Moving Target: A Princess Leia Adventure (Appears in hologram)
Aftermath (Appears in flashback(s))
Star Wars: Uprising (Appears in hologram)
Aftermath: Life Debt (Wreckage only)
Aftermath: Empire's End (Appears in flashback(s))
The Legends of Luke Skywalker (Mentioned only)
"All Creatures Great and Small"—Tales from a Galaxy Far, Far Away: Aliens: Volume I (Mentioned only)
Poe Dameron 8: The Gathering Storm, Part I (Drawing only)
Poe Dameron 9: The Gathering Storm, Part II (Appears in flashback(s))
Star Wars: Episode VII The Force Awakens (Appears in hologram)
Star Wars: The Force Awakens novelization (Appears in hologram)
Star Wars: The Force Awakens: A Junior Novel (Appears in hologram)
The Force Awakens: Rey's Story (Mentioned only)
The Force Awakens, Part V (Appears in hologram)
 ""—Star Wars Adventures Ashcan (Appears in flashback(s))
"Hear Nothing, See Nothing, Say Nothing"—Canto Bight (Wreckage only)
Star Wars: The Last Jedi: Expanded Edition (Mentioned only)
Non-canon appearances
Edit
Notes and references
Edit